Templar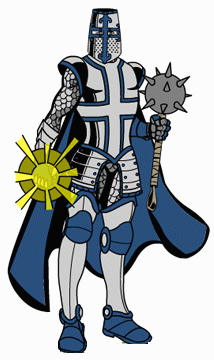 Description: Long ago, the Templar was a scholar, teacher, healer and spiritual leader. Today, the Templar must add warrior to his list of duties. All are versed in the basics of combat and self-defense. Many wear armor and carry weapons, but most still consider themselves to be teachers, healers and counselors, rather than fighters. Templars have dedicated their lives to reverence of their deity and the righteous use of force. Though Sikkar remains mysterious and distant, they are unswerving in their devotion. Templars will undertake any mission that contributes to the greater glory of their deity, no matter how dangerous or life-threatening. Templars are caring and compassionate men and women who help the downtrodden. They fight to keep the quest for freedom alive. Some wander from city to city righting injustice and slaying monsters. There are even Templars known as 'monster hunters'. Many Templars join Paladins as members of an armed force, heal the injured, protecting the good, and fighting at the side of trained soldiers. Some stay at temples or within a community to help build defenses, organize the people, and estabilsh secret networks of resistance fighters. Others focus on healing, teaching, and guidance. All are noble characters trying to do what they can to restore peace to their world.
Leader bonus: 5 Wis
Champion bonus: 5 Wis. The Templar Champion can visit all the churches of Sikkar accessible by pilgrimage.
Stat potential:
Str: little (2/7)
Agi: little (2/7)
Dex: little (2/7)
Con: little (2/7)
Int: none (0/7)
Wis: little (2/7)
Per: none (0/7)
Cha: none (0/7)
Point Potential:
HP: small (3/7) HPR: small (3/7)
SP: small (3/7) SPR: small (3/7)
EP: small (3/7) EPR: small (3/7)
Category Bonuses:
Holy spiritual spell: small (3/7)
Religious skill: small (3/7)
Armed combat skill: small (3/7)
Race Matches:
Good: Anakim, Arakun, Dhampir, Dragonian, Dwarf, Homarid, Human, Illex, Irrdu, Mummy, Papua, Selkie, Treant and Tywimn.
Average: Behemoth, Catfolk, Gargoyle, Minotaur, Muridan, Pudding, Titan, Unicorn and Werewolf.
page revision: 11, last edited: 25 Nov 2014 00:34