Abjurer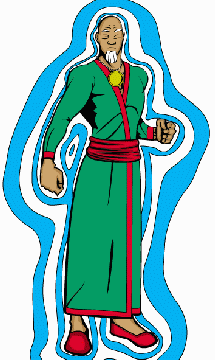 Description: The abjurer guild is dedicated towards protective magics. The members use spiritual energy in order to focus their magc into a number of forms. The abjurer studies hard and meditates on the world around them. The teachings contained within the abjurer magic set the abjurer on the path that the world is inherently a dangerous place and that adventurers need all the help they can get in order to survive. The various forms of abjurer magic allow the abjurer to lessen the effects of harmful situations in which adventurers may find themselves placed. Abjurers prefering to be indescript do not tend to call attention to themselves either by action, demeanor or dress. Abjurers prefer robes of dark green and brown, allowing themselves to blend in, but when appropriate they will follow local fashion styles to further blend in. The protective energies that the abjurer uses is a direct result of there deep reverence for life and the philosophies that stress compassion and selflessness. Abjurers tend to be thoughtful, orderly, gentle-natured, and soft-spoken, going out of their way by demeanor and dress code to avoid attention. Owing to their mastery of protective forces, abjurers tend to live to a ripe old age; it is not unusual to find abjurers well into old age still in adventuring parties. NOTE: Abjurers cannot wield weapons of any type after 15th level.
Leader bonus: 5 Wis
Champion bonus: 5 Wis. The ability to determine resistance on someone.
Guild choices for: Abjurer
Primary Guilds: Alchemist, Biomancer, Druid, Monk, Psionicist, Sentinel
Secondary Guilds: Center Chi Master, Herbalist, Mwanga, Ordo Praeses, Raindancer, Shaman, Shih, Yamabushi
Tertiary Guilds: Tae shih, Tae tzu, Tae wu
Stat Potential:
Str: none (0/7)
Agi: little (2/7)
Dex: little (2/7)
Con: little (2/7)
Int: little (2/7)
Wis: little (2/7)
Per: none (0/7)
Cha: none (0/7)
Point Potential:
HP: little (2/7) HPR: little (2/7)
SP: average (4/7) SPR: average (4/7)
EP: little (2/7) EPR: little (2/7)
Category Bonuses:
Unarmed combat: tiny (1/7)
Religious Skill: tiny (1/7)
Abjuration Spiritual Spell: small (3/7)
Fire Spiritual Spell: tiny (1/7)
Earth Spiritual Spell: tiny (1/7)
Water Spiritual Spell: tiny (1/7)
Air Spiritual Spell: tiny (1/7)
Physical Spiritual Spell: tiny (1/7)
Race Matches:
Good: Arakun, Bloodworm, Dhampir, Gorgon, Human, Illex, Irrdu, Kuroa, Mummy, Papua, Selkie, Treant, Tywimn, Unicorn and Yaag-nesh.
Average: Anakim, Catfolk, Devil, Dwarf, Flynd, Gargoyle, Homarid, Kizanki, Minotaur, Muridan, Pudding, Shadow, Slaad, Titan, Uruk, Vipyr and Werewolf.
Note: at level 15 aikido becomes your martial form, even if you don't train the skill.
page revision: 16, last edited: 24 Sep 2022 16:24